作者:
来源: MW Associates
日期: 2023-01-13
浏览次数:

10128

次
Czech Republic – January 2023 – PBT Works s.r.o., a leading manufacturer of cleaning technology for electronic assemblies and tooling, is pleased to announce that two of its newest cleaning machines, HyperSWASH and HyperCLEAN, offer excellent efficiency and low impact on the environment. They are similar in both name and appearance and yet, there is a difference between them according to cleaning application.
Both systems represent another approach to batch cleaning than large in-line cleaning machines. In practice, in-line cleaning machines are not fully utilized as well as demanding in terms of energy, water consumption and operator assistance in loading/unloading the assemblies.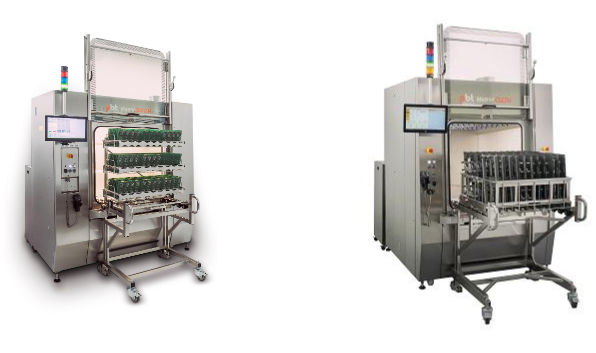 The HyperSWASH III is designed for medium and large capacity factories with a highly flexible product range. It can clean very high-density assemblies up to the size of 29" x 29". Direct spray with double row nozzles enables cleaning under the most challenging packages (large size flip-chip, QFN). The internal nozzle system can be replaced in three minutes with another designed for cleaning PCB baskets or magazines with assemblies. This configuration offers high capacity. An option of the automatic loading/unloading system can eliminate the operator between the assembly line and the cleaning station and following operations.
The HyperCLEAN III boasts a high-volume chamber. The machine is designed to clean boards in baskets or in magazines specially designed for cleaning, but also compatible with the loading/unloading units of the standard assembly lines. The HyperCLEAN can clean up to 5,5 m2 (59,20 sq ft) of assemblies in one process. This capacity roughly corresponds with half an hour up to one hour capacity of an inline system. The typical cleaning time for the HyperCLEAN is 60 to 90 minutes. This short cycle time can be achieved thanks to the new heat-recovery system in the dryer. The HyperCLEAN dryer achieves approximately twice the drying speed of other dryers.
HyperSWASH and HyperCLEAN represent a new platform of cleaning systems. They offer big performance in a minimal footprint. Both cleaners have unique rinsing. It consists of three subsequent rinse steps. The chemical stop with minimal waste-water volume, about 3-4 gallons/cycle. The first rinse and second rinse closed loops with deionized water reprocessing. Such a rinsing cascade enables us to utilize the maximum chemical filter capacity.
Both machines represent a highly environmentally friendly approach to cleaning modern electronic assemblies.
PBT Works is EN ISO 9001 and EN ISO 14001 certified. For more information, visit www.pbt-works.com.
###
About PBT Works s.r.o.
PBT Works ranks among the world's most well-known manufacturers of cleaning technology for electronic assemblies and tooling. The company has a strong design and development team that keeps up with necessary process innovations in microelectronic assembly. For more information, visit www.pbt-works.com.