作者:
来源: MW Associates
日期: 2023-05-17
浏览次数:

232

次
Emerald EMS Drives Design, Engineering & Manufacturing Forward at MD&M East
SALEM, N.H. ― May 2023 ―
Emerald EMS, an innovative solutions provider, is pleased to announce plans to exhibit in Booth #932 at MD&M East, scheduled to take place June 13-15, 2023 at the Jacob Javits Convention Center in New York, NY. The Emerald EMS team is driving design, engineering and manufacturing forward.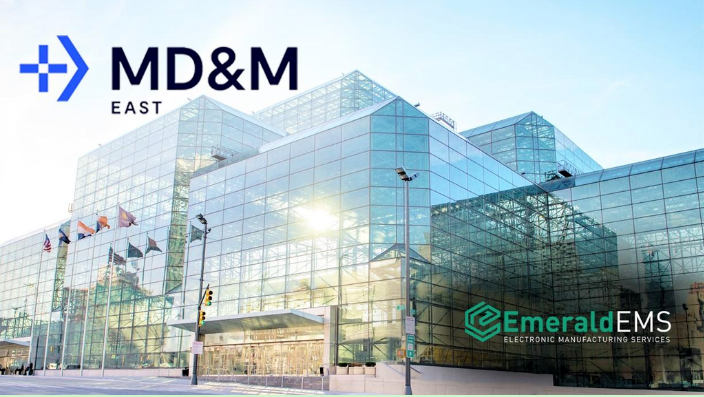 Emerald EMS assists original equipment manufacturing (OEM) companies and suppliers for life sciences in developing artifical intelligence, machine learning, robotics, distruptive digital health device design and innovative new materials. All of this while ensuring compliance with the industry's uniquely stringent requirements for accuracy, reliability and patient safety.
In a time when the demand for advanced medical technology seems endless and constantly evolving, Emerald EMS equips its valued customers to meet the challenges and potential of this exciting era of exploration and human progress. All of Emerald EMS's ISO-13485-certified U.S. manufacturing facilities have established track records as leading providers of electronic manufacturing services for high-reliability life science and patient safety applications.
Equipped with the latest manufacturing equipment available on the market, Emerald EMS offers electro-mechanical and system assembly, reliability, precision touch-ups, in-circuit and functional tests, rework and failure analysis, complex repair depot services, final test, integration, box builds, order configuration and direct order fulfillment. Additionally, the company offers a wide variety of sophisticated SMT placement and clean room assembly.
Emerald EMS is committed to fully understanding and meeting the needs of their customers through quality excellence, advanced engineering, and strong commitment to customer relationships.
Contact us here to schedule a meeting at MD&M East or visit www.emeraldems.com to learn more.
###
About Emerald EMS
Headquartered in Salem, N.H., Emerald is an electronics manufacturing services provider specializing in design, prototyping, production PCBA, System assembly, test and lifecycle support services (supply chain management, order fulfillment and reverse logistics) for OEM customers, with a focus on high-reliability electronic assemblies. With engineering services and manufacturing facilities located domestically in California, Michigan and New Hampshire, and a facility in Shenzhen, China, Emerald EMS has the scale and service offering typically only available at the largest of EMS companies, but with high-touch, white glove design, manufacturing and assembly customer service. For more information, please visit www.EmeraldEMS.com.