作者:
来源: MW Associates
日期: 2023-09-20
浏览次数:

283

次
PDR & SMTVYS Technology to Showcase Innovative SMD/BGA Rework and X-ray Solutions at SMTA Guadalajara

PDR, founded in 1985, and today a leading manufacturer of BGA rework systems and X-ray systems, is pleased to announce its participation in the SMTA Guadalajara Expo, scheduled to take place Wednesday, Oct. 25, 2023 in SMTVYS Technology's Booth 505 at Expo Guadalajara in Guadalajara, Jalisco. PDR is set to showcase its cutting-edge IR-E3 Series of SMD/BGA IR rework systems, as well as its industry-leading X-ray solutions.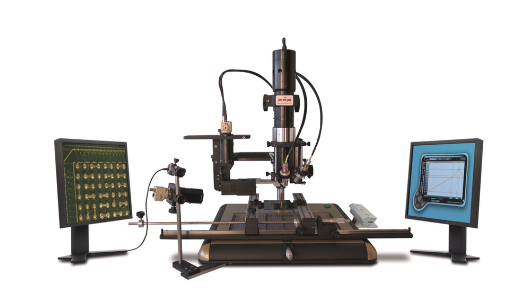 Redefining Rework Efficiency
The IR-E3 Series rework systems are a game-changer in the industry. With a nozzle-free and gas-free design, these systems offer a clean, straightforward, and user-friendly solution. Designed to ensure precise control, each model in the IR-E3 Series guarantees a 100 percent yield of SMD/BGA rework without complications. The secret lies in the combination of accurate closed-loop thermal feedback and intuitive software, empowering operators to achieve exceptional results when working with advanced packages, including SMDs, BGAs, CSPs, QFNs, LEDs, Flip-chips, 0201-01005s and lead-free applications.
Setting New Standards in X-ray Imaging
Additionally, PDR X-ray Solutions' 2D and 2D+ X-ray systems have set a new industry standard for high quality X-ray images at an affordable price. PDR recognizes the importance of choosing the right X-ray system for various requirements, whether it's quality control, process control, semiconductor inspection, Component Counterfeit Detection, or X-ray Failure Analysis. PDR's X-ray solutions offer unparalleled insights and accuracy crucial for today's intricate electronic components and assemblies.
PDR invites attendees to visit their booth at SMTA Guadalajara to witness firsthand the breakthrough innovations that are shaping the future of rework technology and X-ray imaging. Experts will be available to provide insights, answer questions, and showcase the capabilities of the featured products.
For more information about PDR Rework Systems, visit www.pdr-rework.com.
For more information about X-ray Solutions, visit www.pdr-xray.com or call PDR in the U.S. at 530-676-6262 or in the United Kingdom at +44 (0)1293 614 000.